EVENING PLANETS: This requires no telescope: When the sun sets tonight, go outside and look west. You'll see two planets beaming through the glow of sunset--Venus and Mercury.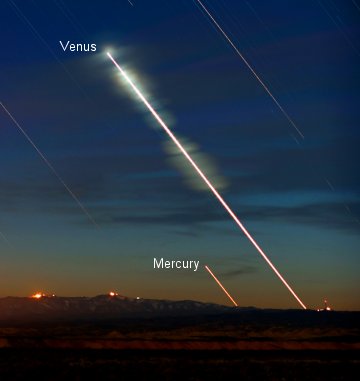 Long-exposure photo credit: Amir Hossein Abolfath of Ghom, Iran
This is a great week to enjoy the two planets together. Mercury reaches its maximum elongation (apparent distance) from the sun on Feb. 7th, making it unusually easy to see and a charming companion for always-bright Venus: finder chart.
more images: from Domenico Licchelli of Lecce, South of Italy; from from Benjamin Poupard of Reims, France; from Ante Pavlovic of Zagreb, Croatia; from Dave Lengyel of Brighton, Ohio; from Tibor Horvath of Hegyhatsal, Hungary
COMET MCNAUGHT: Now that the full Moon is out of the way, observers in the Southern Hemisphere are spotting Comet McNaught again. Last night, "it was visible to the unaided eye," says Chris Picking of Wairarapa, New Zealand. A 3-minute exposure on his off-the-shelf digital camera produced this image: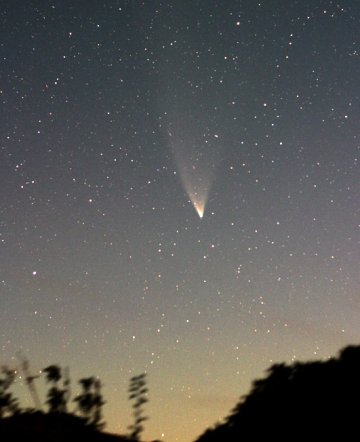 Photo details: Canon 10D, 50mm lens, f3.5, 3 minute exposure
Current estimates of the comet's brightness place it between 3rd and 4th magnitude. That's about 2500 times dimmer than it was at maximum in mid-January. As the comet fades, it becomes an easier target for sensitive telescopes, and some interesting things are coming to light: A team of astronomers using the ESO's 3.5-meter New Technology Telescope in Chile have just announced their discovery of "strong spiral jets extending at least 32,000 km from the comet's nucleus." [Ref: C. Snodgrass et al., IAU Electronic Telegram 832.] Stay tuned for updates